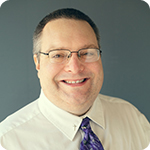 Currently I work with
EndoEvolution
as a Product Engineer. EndoEvolution manufactures the Endo360°, a laparoscopic suturing device. I maintain our Solidworks database, incorporate changes (ECOs) to our documentation, improve manufacturing processes, diagnose returned devices and lead our technical communication. I'm also responsible for updating our Graphic Design materials.
I've also worked for
Raytheon
seven years as a Mechanical Engineer, designing and documenting radar related equipment, as well as other shorter duration contract positions documented on my
resume
. I've led projects from conception to production, coordinated prototype manufacture and negotiated vendor quotes. I've worked with Solidworks, ProEngineer, AutoCAD, MasterCAM and have programmed and run CNC mills and lathes. I have a BSME from
Tufts
University.
I earned an Associate's Degree in Graphic Design from
Mt. Wachusett
. I ran my own freelance
business
, through which I designed brochures, postcards, ads, tee shirts, logos, and websites using custom photography. I'm a cartoonist, I produce electronic music and I'm a
believer
.

Mechanical Design | Graphic Design | Cartoons | Music | The Lord